Hillary Robbie has been a vital part of Grouse Mountain Environmental Consultants for ten years. In that time, she has held a number of positions and worked on a variety of projects. And while it's partly the work that has kept her at Grouse Mountain for a decade, it's also Grouse Mountain itself.
"Grouse Mountain is a really good company," Robbie shared. "We were a lot smaller ten years ago, and we've continued to grow since then. But it still feels like a nice, good, family-like company."
Throughout her ten years, Robbie has overseen and been directly involved with various projects.
"I do a little bit of everything," she laughed. "I started off as a Wildlife Biologist, so I still do that and manage some of the wildlife projects. I also do quite a few of our proposals. Basically, when we're trying to get new jobs, I write up our proposals for those to submit to clients. But the main thing for me, right now, is that I also lead our NEPA Department (National Environmental Policy Act). And that includes a lot of environmental documentation."
Her responsibilities have multiplied, but she has welcomed the challenge. In fact, she prefers the challenge. Robbie enjoys staying busy. She enjoys working on a wide array of projects and she's able to do just that with Grouse Mountain.
"In the time I've been here, I've also done a ton of rangeland projects, plant projects, some hydrology stuff that I've helped with permitting for. I've done all sorts of things. Even with the NEPA Department now, that's something that just continues to grow. And I feel like that's something that's nice about working here – starting off with them early on, and I'm still learning now. We keep getting all sorts of new kinds of projects. So that's been nice."
Robbie's career thus far has been more than "nice," and we wanted to know it, so we asked her some questions to find out more about Grouse Mountain's NEPA Coordinator.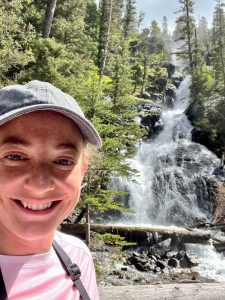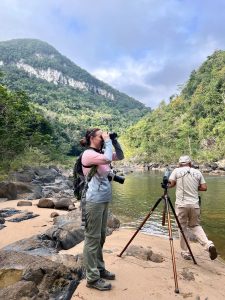 How did you come to work at Grouse Mountain?
I was already in Buffalo, working as a seasonal range intern at the BLM. I really wanted to stay in the area but get more into the wildlife field. So I came here to be a combination wildlife/rangeland seasonal employee and have stayed here ever since.
What do you do for Grouse Mountain?
I'm a NEPA Coordinator, wildlife project manager, and I work a lot on proposals. As NEPA Coordinator, I manage and help to write environmental documents for the National Environmental Policy Act, mainly Environmental Assessments and Categorical Exclusions. These documents look at a project's entire environmental impact for a variety of resources. As a wildlife project manager, I help our clients determine what sort of wildlife surveys they need in order to obtain their permit, and then carry out those surveys. I also spend quite a bit of time preparing proposals for Grouse Mountain while we look for new opportunities.
What made you choose this career path?
I've always enjoyed wildlife and knew I wanted to make a career out of it. I enjoy that, here, I get to do wildlife work, but also a variety of other resource projects.
What's your favorite part about working at Grouse Mountain?
The way everyone steps up as a team to get the work done. We're a small company, and everyone wears multiple hats here.
What's an experience that stands out to you from working at Grouse Mountain?
My first snowy owl sighting. I was up at a proposed wind farm location in Montana, completing avian use surveys. I was driving between points and came up on a gate. It was really early in the morning, and the whole area was snow covered and silent. On the fence was perched a perfectly white, adult male snowy owl. I rolled the window down and he flew past me silently and I could see those golden eyes look straight at me. He didn't count for my surveys but definitely for my life-list, and an awesome experience.
What do you love about Wyoming?
I love the small town community, how integrated we are with the outdoors, and the fact that it's a great, safe place to raise a family.

What are some of your hobbies?
Bird-watching and reading!

What are a few fun facts about you?
My birding life list (number of different bird species I've seen) is at 497. Just three more to 500! I also have two young girls that occupy most of my free time.
What differentiates Grouse Mountain from its competitors?
I think we're a lot more flexible. We want the job, and we want to do a good job. That means even if it's new, or there's something challenging about the project, we will figure out the best way to get it done and get it done well.